Continuing the series of reviews of books I got at Comitia 109, today I have another 2 doujinshi to introduce to you. Like the previous ones, all of these are completely original properties, not "fan fiction" type books.
1 Nikochuu Witch Kemuri by Totsuka Kodama (circle: Aramugi)
This is an odd one. Circle thumbnail: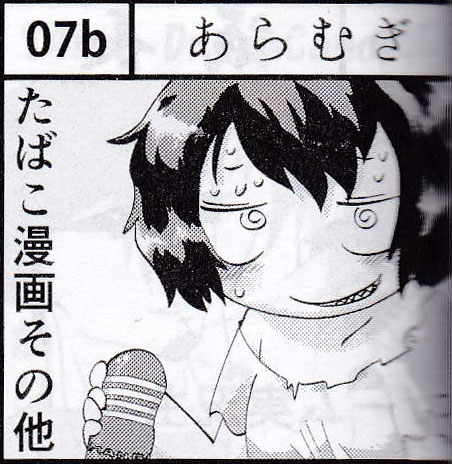 The 40-page book contains two chapters of an ongoing story featuring Yanikura Kemuri, university sophomore and chain smoker. After some awkward social moments at school (such as being invited to a party that she actually wants to visit, but turning it down when she notices other peers watching the conversation), Kemuri steps outside for a smoke, and starts hearing voices calling her name.
Shortly after, she finds herself under attack by a monster named Mildzebub, an obvious riff on the cigarette brand Mild Seven. Instinctively, and with some help from the voices in her head, she gets out her cigarettes, and, after a short struggle, lights up. And in a burst of tobacco magic, the monster is vanquished.
In the second chapter, Kemuri goes out for lunch with a friend who has fallen in with some kind of sect, and tries to persuade Kemuri to join. When Kemuri tells her about her encounter with Mildzebub, her friend rambles on about how tobacco was originally a way for Native Indians to connect with the spirit world, and repeatedly points out there are some Nicotine addicts in her sect as well, who would be able to help her.
When Kemuri blows her off, they are attacked by Kuraclown, a bird-shaped monster riffing on Lark cigarettes. To her surprise, Kemuri's friend turns out to be a fellow nicotine addict witch, who deftly strikes down the monster with her own tobacco magic.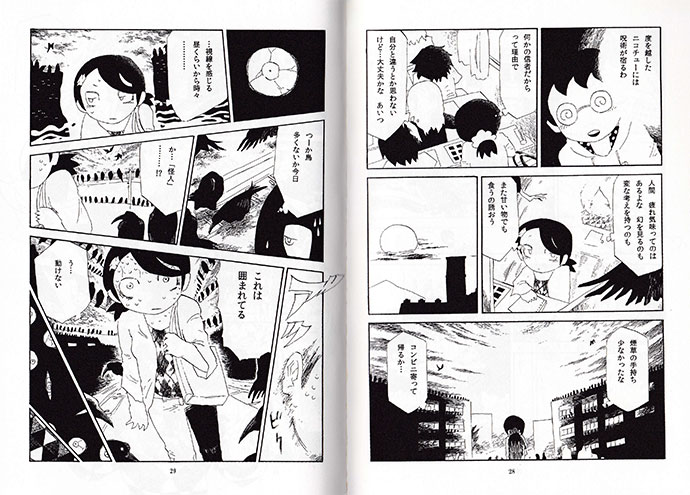 My first impulse to get this book was the art, which distinctly reminded me of the short-lived Shounen Jump serial Hachi.  I don't know whether that has been translated into English, but if you get a chance, do check it out.
Now obviously, the art in Nikochuu Witch Kemuri (Nicotine + chuu(doku 中毒) = Nicotine addict, btw) is not as consistent as Hachi's, and the story is a bit hit-and-miss, but it does get points for originality. Tobacco Magic? WTF?
Production quality of the 500 Yen book is pretty standard, with a glossy cover and medium heavy, matte white pages. There is a 2-page sketch section in the back explaining the monsters and their (tobacco brand) inspiration, which is sort of cool.
The artist: Totsuka Kodama on the web, Pixiv, Twitter.
The first two chapters of Nikochuu Witch Kemuri are online here.
2  Usagi Samurai (Usagi Samurai boards a boat) by 天邪鬼 (Amanojaku)
R-device circle thumbnail: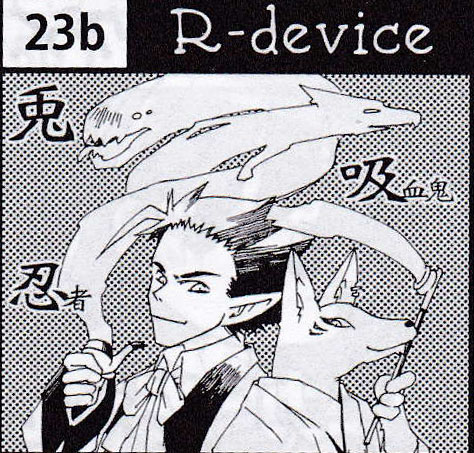 Completely unrelated to the great Usagi Yojimbo, Usagi Samurai takes a decidedly cute take to the world of leporidae swordsmen. The titular character finds himself in the country (Hyuga instead of Iyo), and tries to hire a ferryman to reach his destination. Unfortunately, the town is engulfed in a thick fog, making the voyage impossible.
Having overheard the conversation, a fox in a monk's robe approaches the samurai, and offers to dispel the fog. The samurai wastes no time in agreeing to the deal, and the fox takes him into the mountains.
After a long and treacherous path into the mountain, Usagi Samurai finds himself at a guesthouse being treated to great food and a bath in a hot spring. He enjoys himself, forgetting about the issue at hand… Until the fog lifts, and he makes his way back to the harbor town. There, he notices a change in the town's appearance, and asks a few sailors what year it is, only to find that roughly 400 years have passed.
This is a nice, compact take on the classic Japanese folklore theme of kamikakushi, an "abduction" by the gods, as famously depicted in Miyazaki Hayao's Spirited Away.
The art is gorgeous, not to mention cute as hell, which is almost a requirement for books about bunny samurai. Most of the animals are actually quite carefully selected, a fox traditionally being a servant of the gods in Japanese folklore, and raccoons (such as the one serving the food in the page above) being shape-changing tricksters, but also very popular good-luck charms used by restaurants to pray for good business.
The book is gorgeously produced, with the cover having an almost Washi-like quality to it with a faint metallic shimmer. The artist apparently cranked out this 12-page story in just the 2 weeks between Comiket and Comitia, which is extremely impressive.
This seems to be a pretty long-running series, as I also got another issue from 2011, which says it's already the 5th one.
The artist: 天邪鬼 on the web