I know, I know. I'm late to the party. Halloween is not usually a big thing for me, since I'm from central Europe. But I made a trip to Roppongi on Friday to see the lifesized Patlabor Ingram (which was super cool, but unfortunately already getting prepped for transport and I didn't get a good look at it), and the streets were flooded with people in flashy Halloween costumes, so it gave me an idea. Why not do a Halloween-themed doujinshi review?
So I made a short trip to Melonbooks and Lashinbang in Omiya yesterday to specifically look for books with Halloween-ish content. I expected to find a lot of cute witches, ghosts, and possibly some horror content, although I wasn't sure whether the big stores would be stocking the heavy stuff.
But lo and behold, the first thing I found was this:
1. Kuwareru (being devoured) by Nagomiyasan (Suzuki Nago)
Kuwareru's protagonist is a regular Joe, down on his luck: on the very first page, his wife files for divorce, and her lawyer reads him the conditions for meeting their adorable daughter Yukari.
A few days later, he is spending some time with Yukari, and we get the feeling that her innocent smile just might be his salvation, when suddenly he passes out and awakes to…
Chained to the wall in a barren room, the protagonist finds himself face to face with a huge, savage-looking monster that looks like straight out of Attack on Titan.
Both of them are bound by chained linked to the wall by a timed lock, the last one holding the monster down being set to 15 minutes earlier than the protagonist's. Next to where he's sitting, he finds a rusty knife, and binoculars, while the beast on the other end seems to be surrounded by human body parts from multiple victims.
He remembers a similar scene in a horror film, where the main character ended up cutting off their own foot to survive, but quickly dismisses the idea since the knife doesn't look nearly sharp or strong enough to amputate anything… So he does the understandable thing: He freaks the fuck out.
Only afterwards does he remember that he was with his little daughter when he was apparently abducted… And things only go downhill from there.
Kuwareru is a classic locked room horror story, and while there is some gore in it, the main scare element is definitely psychological. The main character faces the realization that his life is over, not only because he is about to be dismembered by a hulking monstrosity with gigantic fangs, but because he has already lost everything – his career is stagnating, his wife dumped him, and his dearest daughter may well be dead already. It's a no-way-out situation, and this being a Japanese story, it is safer not to hold your breath for a happy ending…
Kuwareru  is 28 pages in B5 format, with a matte 4-color cover (probably the scariest I've ever seen on a doujinshi). It's a pretty standard production physically, and definitely more about the story than visuals. The art is reasonably professional, and purposefully comes apart at times when the protagonist loses it.
The original price was 400 Yen, I got it at Melon Books for 549.
The author: Suzuki Nago on Pixiv, Twitter
Kuwareru on Melonbooks
Surprisingly, I didn't find anything else appropriate for the theme at Melonbooks. So I moved on to Lashinbang, which sells second hand doujinshi and character goods.
And there, at the opposite end of the Halloween doujinshi spectrum, I found:
2. Potoneko Halloween by Naru Nanao & KOKONOBI (circle: Ice & Choco)
Okay, this is something that would normally never pick up, but it was the only book I could find that actually said "Halloween" on the cover, so I just had to get it.
Poteneko Halloween is a book from 2002, and unlike the other books I have been introducing, it's simply a collection of illustrations rather than a manga story. According to the introduction, the artists had produced a variety of goods to go with it, such as a clear file (a plastic sleeve/folder to protect loose sheets of paper) and a decorative plate.
The 6-page insides of the book are fairly similar to the cover: There is one illustration per page, with a small block of text describing the artist's motivations for producing the respective images.
From what I can find on the web Naru Nanao is a fairly well known games illustrator, and Kokonobi a frequent collaborator (and former assistant?). The book is full color, and printed on pretty thick stock. It was 100 Yen at Lashinbang, I assume that's because there's not too much content and it's fairly old.
There's a lot of Kancolle illustration on Kokonobi's Pixiv profile, including one for this year's Halloween:

halloween! by ここのび on pixiv
The artists:
Naru Nanao on Wikipedia
Kokonobi on Pixiv, Circle profile
And finally…
3. Kaijuu Wakusei (Monster Planet) by duke
What would Halloween be without a good Kaijuu movie?
The story is set on a distant planet inhabited by peaceful creatures. Humans invade, and start harvesting the "Kaijuu" as material for weapons and armor. When one of the beasts, a sort of plant-dragon, being herded into town for slaughter, fights back, it's put into chains and thrown into a dungeon.
There, it encounters a young girl, who has been imprisoned for living together peacefully with the monsters.
Soon, she is taken back outside to be crucified publicly.. Until the plant-dragon bursts out of the ground from underneath and starts attacking the soldiers torturing the girl.
The soldiers being powerless against the monster, the town's "king" shows his true colors: He's a Kaijuu himself, having feasted on the monsters for years.
From there on, it's an honest-to-god monster brawl, in the vein of the best of the Godzilla movies.
Since I got this book at Lashinbang, I didn't get to look at the insides, and half expected it to be a collection of Kaijuu illustrations. Very pleasantly surprised that it was a proper manga, with great art and a good story. Very satisfying conclusion, too.
Monster Planet is a 44-page story in B5 format, square bound with a semi-glossy 4c wraparound cover. It was 300 Yen at Lashinbang, and well worth it I think!
The artist: duke on Pixiv, Twitter
edit: Forgot one! Here is another "illustration collection" type book by artist kr3:
4. kr+4 by kr3 (Shibano Kaito)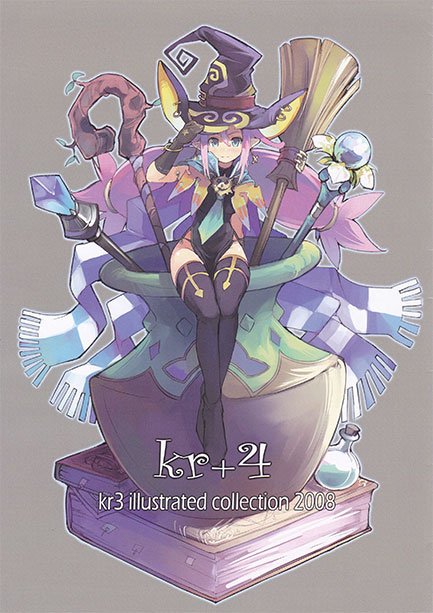 A beautiful collection of witch-themed illustrations. The artist points out on the first page that he loves drawing witches, which have a fairly defined general theme. The book features 7 illustrations, including the cover, each covering a different color or element.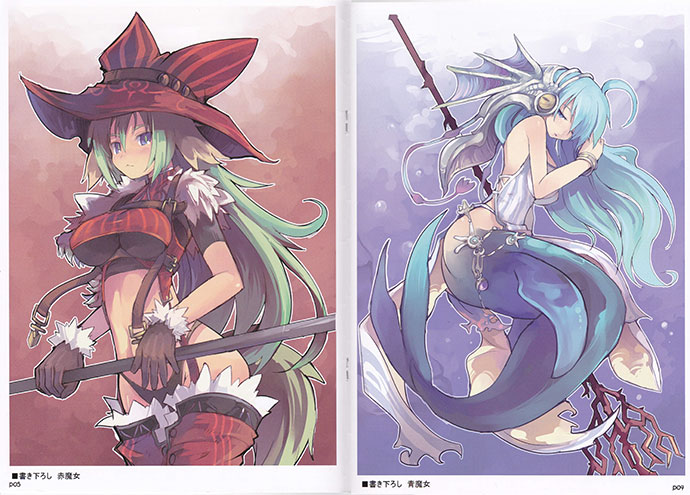 There's no text or anything, but the illustrations are gorgeous, so I feel it was a steal at 100 Yen.
The artist: Shibano Kaito on the web
That's it for today! Hope you enjoyed this look at a few books a little different from what I usually read. Want more? Make sure to check the doujinshi tag for books I have previously reviewed.
As always, I welcome feedback and interaction, so I'd be happy if you liked/reblogged, or even commented. Questions and suggestions are welcome!