Hey there! Glad you could join me for another installment of my mostly-weekly doujinshi review series.
This time around, I thought I'd go for a genre I haven't touched on before. No, not boys' love, I'll leave that to the experts… The books I am going to introduce you to today are of an entirely different variety: Non-fiction. Both of these are reports on the experiences of the authors at two big comic conventions, namely Japan's Comitia (if you're not too familiar, check out my own write-up here) and America's Comic-Con International San Diego.
1 Comitia Zakki-shuu (lit "Collection of Comitia Notes") by Funayama Yasuaki (circle: Phenomenom)
Comitia Notes are the record of the author's misadventures at Japan's premier original (read: non-fan fiction) doujinshi market. Depicting himself as Yayoi, the heroine of his first self-published work, Funayama starts out the book with a 2-page sequence that starts with the artistic frustration of drawing someone else's property, then turns to starting to work on his self-published book upon the invitation to Comitia 100 by a friend, next shows the optimistic beginning of the show, quickly followed by utter defeat, none of his books having sold, and finally closes on the up-note of the artist finding new motivation to have a better book ready for the next show. It's a story that is surely recognizable to many budding comics artist, who walk into the show confident but unprepared, only to be chewed up and spat out (see the cover), and then come back for another serving.
Funayama's convention life takes an upturn at November 2012's Comitia 102, with his new book Boukyakugai no Sora selling out, and Funayama getting invited to the Comitia afterparty. The report comic about this experience is actually the first one Funayama drew, and ended up becoming a regular tradition, finally being collected in this book.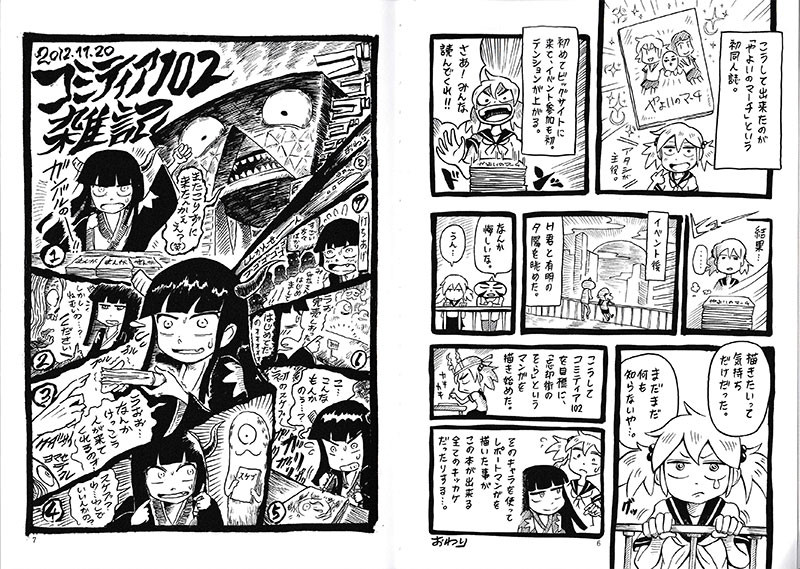 Over the course of the following three years, Funayama gains friends, fans, watches in awe (and unbridled jealousy) as his peers soar in both skill and popularity. More and more characters, each an artist in real life, but robots/youkai/tomato-monsters in the book, join the cast as Funayama gains foothold in the world of independent comics. But while the storytelling is generally hilariously comedy-heavy, Comitia Notes does contain some valuable lessons, such as how to survive a portfolio review at the "on-site editorial desk" (an experience which Funayama depicts as a ruthless martial arts training sequence that leaves him reduced to a head with legs), or what happens when you make an appointment with an editor for after the convention, but don't have anything to show (answer: you end up drawing the entire time).
Funayama's Comitia reports are illustrated in a loose, comical style that lends itself to a speedy, fun report. Particularly the depictions of other artists are endearing and entertaining (a lot of them contributed sketches in the back section of the book, along with an introduction of them and their works). Obviously they garnered a good deal of attention, as Funayama was tapped to illustrate Comitia's ubiquitous rule manual "Welcome to Comitia" for the 118th installment.
Comitia Notes is 98 black-and-white pages with a glossy, wraparound cover that is so eyecatching I just had to get it when I saw it at Comic Zin.
The artist: Funayama Yasuaki on Twitter, Pixiv, the web
Comitia Zakki-shuu at Comic Zin
2 The Journey to San Diego Comic-Con: About participating in the world's biggest Otaku event by neko (circle: KJTR)
Most Japanese, and otaku even more so, are notoriously conscious of their ability to communicate in English, so visiting an American comic convention prevents quite a few hurdles. Journey to SDCC is as much an attempt at lowering these, as it is a travelogue of the author's own experiences at the popular convention.
Author neko first encountered the term "SDCC" via a video game producer's call for people to join him for dinner at the event, which immediately made her start to plot for next years' comicon. Never having been to the US, she had to figure out travel logistics before even facing the ever-momentous task of securing a badge for the event.
Journey to SDCC walks the reader through the process of securing badges, picking them up at the event, navigating the panel schedule, finding food, meeting people, and overall having a good time at the busiest of cons. Like Funayama's Comitia reports, the artist's experiences are relayed via short comic segments, but offer a more detailed description of each event in the form of text blocks and pictures on the following pages.
Leaving the convention center, the book offers tips on things to see, such as the nearby USS Midway museum, and a guide on how to get around on the trolley.
But the convention programming takes up the largest chunk of the page count, with a great rundown on what to expect from comic- and art related panels, and even featuring some familiar faces in delightful cameos.
Journey to SDCC is a 36-page book with a glossy photo/art collage cover, and chock full with information for not only first-time, but also returning con-goers. I will make sure to re-read it carefully before my trip this summer!
The artist: neko on Twitter, the web.
The Journey to San Diego Comic-Con at Comic Zin.