Nankyoku Sufferer by Kezuka Ryoichiro (circle: Sumika)
Sumika comitia thumbnail:
Hayase is member of an exploratory mission into the Antarctic. Accompanied by a humanoid support android, she has ventured out away from their outpost, when their vehicle gets stuck in a crevasse.
With no way of returning to their base before dark, the two contemplate their options: Hayase cynically remarks on how easy it would be if the android only had the capability of flying back to the base, while the other half of the duo snidely points out she is built sturdily to deliver Hayase's last words after she froze to death.
Fed up  with the light-hearted, chatty android, she storms off, only to be stopped in her tracks when she is saved from plunging to her death in another crevasse.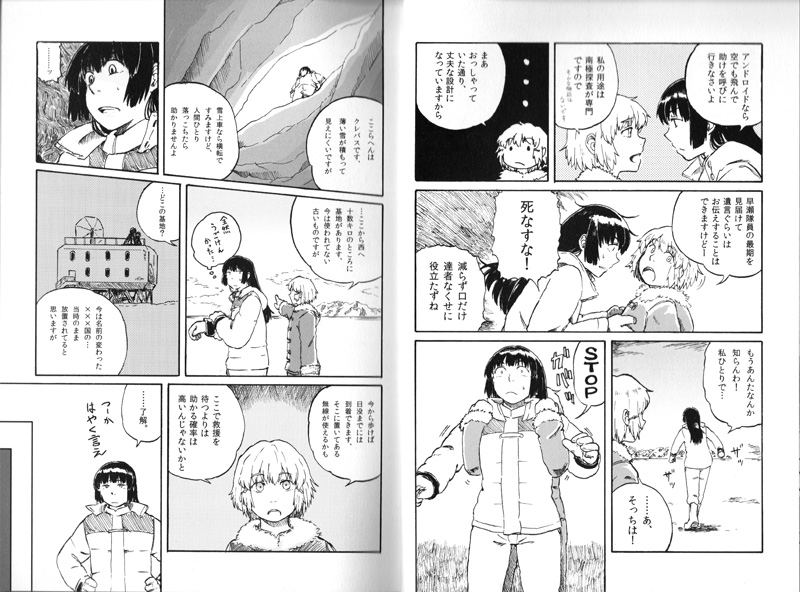 Eventually, the two make their way to an abandoned outpost, where the android is able to fix up an old radio and call for help. "I'm not just chatty and useless after all, aren't I?" she jests, only to be told to shut up and get back to work by Hayase, who rejects her offer of firing up her database of entertaining stories and informational lectures.
As night creeps in and the temperature starts to fall, Hayase gets visibly less comfortable in the barely-functional outpost, shivering even under layers of blankets. The android wanders off to look into the heating system, and comes back with thick wires attached to her gut, before shutting down her main systems and collapsing beside Hayase.
When she comes to only minutes later, she finds Hayase had different priorities for surviving the night…
Nankyoku Sufferer is a very brief, self-contained story without any explicit action or drama, but offers a great read through the main characters' dry-humored dialogue. While Hayase obviously isn't as uncomfortable as she pretends with having the ever-positive android around, her opposite betrays her light-hearted facade in moments of sheer capability when needed the most.
The theme of having a near-perfectly human android companion is of course one that has been explored time and again in manga, but Kezuka does a fantastic job of making his character relatable — she was obviously created with the goal of keeping her human companion sane in extreme environments, just as much as helping the technical aspects of the mission.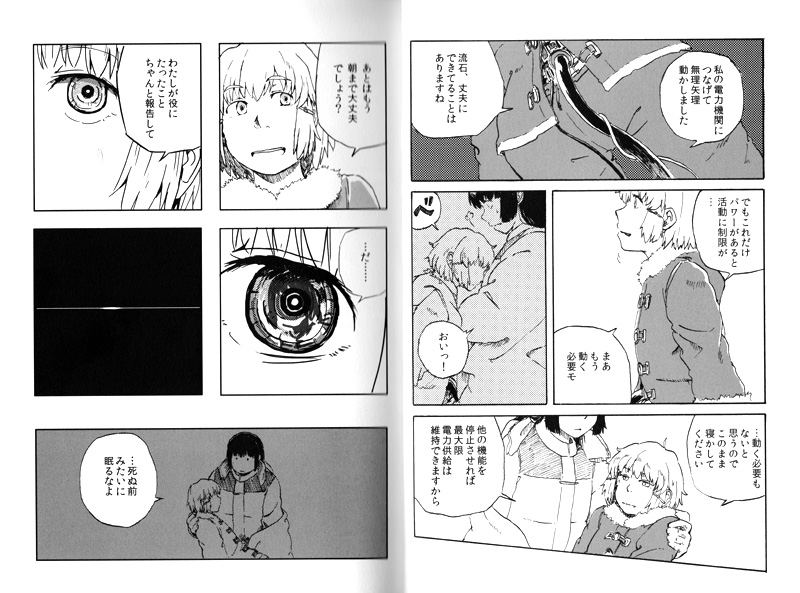 The A5-sized book contains 20 pages of story with a beautiful matte cover of white. blue and black. Kezuka's art shows a hugely consistent level of skill, from the framing and construction of the characters down to the panel layouts, on several occasions using an entire page for a silent establishing shot of the environment alone. The art style is right up my alley of course, with clear lines and attractive, highly expressive faces. The cover is what made me buy the book, however it feels like it belongs to a larger story set in the same world.
The story is consciously set in our world's Antarctic, rather than a more fantastical environment. The author even goes so far as to include a full double page of specs for a polar exploration vehicle used in the story — an actual car used in the 60s. Great to see that kind of commitment to detail — of course it's hard to verify the specifics when it comes to robotics.
The artist: Kezuka Ryoichiro on pixiv, twitter
Nankyoku Sufferer at Comic Zin
That's it for today! Hope you enjoyed the read.
In for more? Make sure to check the category for books I have previously reviewed.
As always, I welcome feedback and interaction, so I'd be happy if you liked/reblogged, or even commented. Questions and suggestions are welcome!